Craftsmanship from HEICO SPORTIV
Who wouldn't want a product that you can use every day, that flatters your hands and looks good at the same time? The exclusive HEICO SPORTIV sport steering wheel is such a product. It impresses with its perfect ergonomics, maximum quality impression and highest manufacturing precision.
Image
Image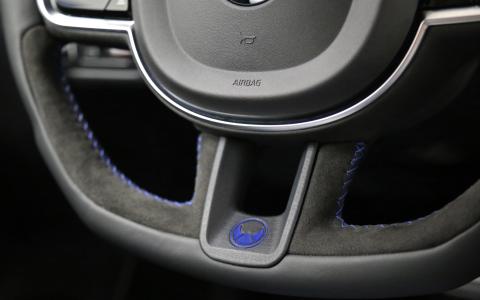 The sport steering wheel is assembled by hand on a specially developed blank. It forms the basis for a valance which, in comparison to the standard version, has two pronounced recessed grips and is flattened in the lower rim area. These loving details increase the grip as well as the entry comfort and give the Scandinavian interior a sporty habitus. Another unique selling point is the steering wheel clasp with integrated HEICO helmet, manufactured using innovative 3D printing technology. 
The HEICO SPORTIV sport steering wheel is upholstered in a high-quality leather/Alcantara® combination with cross seams - optionally in anthracite/silver or anthracite/HEICO blue - and features a 12 o'clock marker derived from motor sports.
If desired, the customer can choose an upgrade with an individual cross-seam in five different colors and match it to the interior. The impression is perfected by the matching HEICO helmet in the steering wheel clasp and the starter button cover, which is also part of the upgrade.
The HEICO SPORTIV sports steering wheel will be available from December 2020.