Product development
Our know-how
Individuality needs individuals.
This is precisely what makes our products special. They are created in our heads, and we are developing, fine-tuning and putting them through their paces in our company. In the digital animation, on the test bench, the test track and finally under everyday conditions in road traffic.
All products are produced according to the highest manufacturer standards and homologated according to strict German and Swiss approval laws. They are tested by an independent technical testing organization (e.g. TÜV) and have certificates according to §19 StVZO or General Operating Certificate (ABE) and Conformity Certification (CH). In addition, HEICO is certified by the Kraftfahrt-Bundesamt (KBA) as a vehicle manufacturer.
For consistent and sustainable implementation, all product development processes are certified according to the quality assurance system DIN ISO 9001:2015. We call this: Designed in Germany. Engineered in Germany. Produced in Germany.
In addition to all processes, however, it is above all the people at HEICO SPORTIV who develop unique and desirable products from an idea and your wishes. With enthusiasm, passion and our unique experience. And the warranty? Up to 60 months and 150,000 km from initial registration on all products - of course without extra charge - underline our quality claim (country-specific, in accordance with HEICO SPORTIV terms of guarantee).
e.motion® power upgrade
Powerfull to the next level.
 
Performance enhancements since 1995
HEICO SPORTIV has been developing and selling performance enhancements exclusively for Volvo cars since 1995. Today, HEICO SPORTIV is the leading supplier of Volvo tuning worldwide. Benefit from many years of motorsport experience and numerous class victories in endurance races on the Nürburgring-Nordschleife, the experience as an authorized Volvo dealer and the sensible use of more power and torque for your Volvo.
At HEICO SPORTIV, the colloquially known "chip tuning" is called e.motion® and stands for "efficiency in motion". It is a technology developed by HEICO SPORTIV for efficient engine tuning and refers to a second, equivalent engine control unit (ECU). HEICO SPORTIV e.motion® is available for almost all common Volvo engine variants, has no effect on the prescribed service and maintenance intervals and comes with a warranty* of up to 60 months / 150,000 km from initial registration. The e.motion® control unit is quickly installed thanks to the simplest "plug-and-ride" assembly, can be programmed online and is capable of diagnosis and updates.
* according to HEICO SPORTIV terms of guarantee
HEICO SPORTIV´s e.motion®performance products goes well beyond Volvo's own Polestar range. It is not a performance optimization, it offers noticeable increase in power and torque. HEICO SPORTIV e.motion® engine tuning works in parallel with the original engine control unit (ECU) and acts autonomously as a second "brain". This intelligent variant of chip tuning makes maximum use of the existing potential of Volvo engines through uncompromising and harmonious tuning. The additional control unit records all important engine data and specifically influences the relevant parameters. This significantly improves acceleration and elasticity, and optimizes responsiveness, top speed (until MY 2020) and consumption.
All standard engine protection functions are permanently monitored. If irregularities occur, the e.motion® engine tuning system shuts down at lightning speed and prevents overstressing of the engine and drivetrain. Your Volvo drives as usual with standard power. The same applies if the engine is too warm or still cold: e.motion® only switches on as soon as the engine's operating temperature is in the optimum range. HEICO SPORTIV provides a warranty of up to 60 months / 150,000 km from the date of initial registration, the scope and procedure are based on the Volvo manufacturer's warranty*.
* according to HEICO SPORTIV terms of guarantee
To ensure this excellent quality at manufacturer level, every engine tuning of all specific engine and transmission variants goes through a precisely defined product development process.
All relevant parameters are modified, matched and evaluated on the in-house performance test bench. The aim is to achieve the highly complex and perfect interplay of rail and boost pressure, injection period and injection timing without touching the structural load limits of the engine, transmission, powertrain or of the particulate filter.
Particularly noteworthy is the indexing of the combustion pressure in the cylinder, which guarantees the long-life cycle of the engine. This is followed by the time-consuming driving test. First to simulate long-term stress on the test track, then under everyday conditions in road traffic.
For consistent and sustainable implementation, all product development processes are certified by the Kraftfahrt-Bundesamt (KBA) in accordance with the quality assurance system DIN ISO 9001:2015. All diagnostic and update functions remain fully intact, as do the reliability and everyday usability typical of Volvo automobiles. In addition, the applicable emissions standards are fulfilled.
HEICO SPORTIV performance upgrades are tested by an independent, technical testing organization (e.g. TÜV) and are supplied with the necessary expert opinion on parts according to § 19 StVZO or General Operating Certificate (ABE) and Conformity Certification (CH) for trouble-free registration*. Another unique selling point of engine tuning from HEICO SPORTIV is the production plate. It identifies the software version used with a unique serial number and is mounted in the engine compartment.
* Country-specific
Acceleraton and speed
To validly the benefits of HEICO SPORTIV power upgrades, we use professional equipment from Racelogic to determine the acceleration values. Racelogic develops and produces electronic systems for measuring, recording, displaying, analyzing and simulating vehicle data.
Exhaust emissions
When developing HEICO products, we pay the utmost attention to carrying out measurements under real conditions in order to be able to provide our customers with truly reliable information on performance and environmental compatibility.
For this reason, we subject our vehicles to elaborate RDE tests, among other things, which comply with the strict specifications of TÜV NORD and thus also with HEICO's typical quality standards.
Yes, as long as you know how to use intelligent technologies.
HEICO SPORTIV thinks holistically. Admittedly, it's about more horsepower, more driving dynamics, more driving pleasure. But not at the expense of our environment. The goal is to exploit the existing potential and optimize the efficiency of your Volvo engine. Finding the perfect balance of more power and less fuel consumption. In short: it's all about efficiency.
The result of e.motion® engine tuning is most evident in driving practice. To reach the favored speed, you can literally step on the gas padel less - thanks to the higher torque. The engine operates less frequently in the full load range, and a reduced revolution speed level lowers fuel consumption. In addition to the intended increase in performance and driving safety, this is a pleasant and measurable effect.
Furthermore, all HEICO SPORTIV e.motion® performance upgrades fulfill the current emission standards that apply in Germany and Switzerland. A proof that your Volvo from HEICO SPORTIV is at least as clean as the comparable standard model. Performance and the environment. Not a contradiction.
Exhaust Systems
You have never heard anything better.
 
HEICO SPORTIV sports exhaust systems are individually tuned for each model series and engine variant. Design, sound and - if technically possible - performance optimization are the focus of the development process.
First, the design and dimensions of the tailpipes are determined. Vehicles from HEICO SPORTIV can usually be recognized by their characteristic "left-right" look. Oval tailpipes made of stainless steel are used, which are produced exclusively for exhaust systems from HEICO SPORTIV. These are refined by chrome plating or polishing and the embossed Viking helmet of the HEICO SPORTIV logo.
Particular attention is paid to the sound design. HEICO SPORTIV exhaust systems are characterized by a sonorous and voluminous, but always pleasantly discreet sound. The timbre varies depending on engine speed and is achieved by a modified rear muffler, optionally with flap control. Precisely calculated exhaust gas flows generate ideal backpressure, especially in gasoline engines. Perfect pipe and damper sizing improve engine performance and response. Depending on the model, an increase of up to 5 kW of power and 15 Nm of torque can be measured.
Selected Sound® is a technology designed by HEICO SPORTIV that significantly enhances the sound experience of smaller four-cylinder engines. The principle: The HEICO SPORTIV e.motion® control unit transmits data relevant to driving dynamics, such as speed, engine speed, engine load and accelerator pedal position, directly from the CAN bus to a sound processor. This is connected to a conventional HEICO SPORTIV stainless steel rear muffler and an actuator, which produces the superior sound of a large-volume engine.
All HEICO SPORTIV exhaust systems are made entirely of high-quality stainless steel and feature perfect fit and OEM-quality manufacturing processes. They comply with the applicable noise and exhaust regulations and have EC approval without the need for an extra registration.
Chassis technology
Our setup for you.
 
HEICO SPORTIV suspensions stands for a dynamic driving experience without sacrificing comfort. Sports shock absorbers and lowering springs are individually designed, tested and produced for each model variant. Only components from renowned OE suppliers are used, which are manufactured to exact specifications on order. HEICO SPORTIV setups are available from HEICO SPORTIV only!
While sport springs primarily serve to lower a vehicle visually, sport suspensions improve the driving dynamics of the entire vehicle. The spring/damper combination achieves a firmer and sportier overall setup. Lateral and longitudinal acceleration is increased, a reduced body pitch leads to more precise and safer braking behavior. At the same time, travel comfort is fully maintained.
The lowering is always in the range of approx. 25-30 millimeters and guarantees unrestricted suitability for everyday use in parking garages and underground garages. The height-adjustable HEICO suspension offers stepless lowering between 20-45 mm at the front and 5-35 mm at the rear axle; in addition, the rebound and compression damping can be individually adjusted.
Selected Level is a technology developed by HEICO for lowering the adaptive air suspension by a further 30 mm. It is individually tuned to the Comfort, Eco, Dynamic and Hybrid driving modes.
Of course, all products have the necessary approval certificates and a guaranteed delivery promise of wear parts.
However, the actual know-how comes from the race track. The successful and harmonious tuning of a sports suspension requires a great deal of intuition and experience. For decades, HEICO SPORTIV has used the Nürburgring-Nordschleife and other reference tracks as test terrain to meticulously work out the perfect setup in simulations - of an American highway, for example, or a typical Swabian country road.
Behind every HEICO SPORTIV sports suspension is Martin Müller as a person. He is a racing driver in the HEICO SPORTIV motorsport team and has been responsible for suspension setups since the beginning. "From the race track to the road". A slogan that is lived and factual at HEICO SPORTIV.
Brake systems
For more driving pleasure and safety.
 
HEICO SPORTIV high-performance sports brake systems set standards. Both in terms of quality and functionality, the 6-piston brake system scores with convincing values for deceleration, dosing and stability. For more driving pleasure and safety.
To achieve this quality characteristics, an extensive development and testing program is run through. In the design phase, the initial focus is on dimensions, weight and decisions on combinability with different wheels. The aim is to keep unsprung dimensions as low as possible while at the same time achieving a performance advantage.
For this reason, the brake calipers are made from highly tempered aircraft aluminum, hard anodized and then triple coated in HEICO Blue. This manufacturing process reduces the unsprung dimensions - for example impressive 2.5 kilograms per brake caliper at the Polestar brake system for XC60. This has a very positive effect on driving dynamics.
The brake discs are also significantly different from the standard ones. They are also tempered and features larger dimensions and more transverse holes to dissipate heat faster and better. Each pre-cast hole is re-drilled and countersunk separately, which has a favorable effect in terms of flow.
The complex design of the brake disc increases the surface area by around 80%. This significantly reduces the temperature of the brake disc and thus also its wear. At the same time, this increases stability.
Compared to the standard brake, the high-performance sports brake system from HEICO SPORTIV impresses with significantly shorter braking distances. In figures, using the example of a Volvo V60 T6 Recharge, this means: deceleration values of over 10.35 m/s² and, at 34.8 meters from 100 km/h, a braking distance that is once again significantly shorter than that of the standard vehicle (37.9 m), and thus a major gain in safety.
All HEICO SPORTIV high-performance sports brake systems have a parts certificate in accordance with §19.3 (StVZO) and a conformity certification (CH) for problem-free modification approval and registration.
VOLUTION® alloy wheels
Flawless beauty.
 
An own wheel design is the Vcard of every exclusive performance car tuner. HEICO SPORTIV presented its first alloy wheel "VOLUTION® Classic" already in 1999.
VOLUTION® is a globally protected name that designates all exclusive design wheels from HEICO SPORTIV. The various VOLUTION® wheels are distinguished by the abbreviation V. (Roman numeral five) for the five-spoke design, VII. (Roman seven) for the seven-spoke design and X. (Roman ten) for the filigree ten-spoke design.
The challenge in developing a VOLUTION® alloy wheel is not only to create a visually appealing rim design, but also to create a wheel that is as light as possible while remaining stable. After all, the aim is to reduce the rotating masses to a minimum and thus optimize the driving dynamics of your Volvo.
Different dimensions and colors result in numerous possible combinations. Although the customer is "spoilt for choice", he can rely on one thing: All dimensions such as wheel diameter, rolling circumference, rim width and offset comply with the latest EC wheel guidelines and are perfectly tailored to the respective model.
All HEICO SPORTIV alloy wheels have tested strengths for all incl. expert opinion on parts according to § 19 StVZO or General Operating Certificate (ABE) and Conformity Certification (CH) for problem-free entry in the vehicle documents.
From the idea to the product
But first there is a white sheet of paper. After the time-consuming creative design phase and the preparation of a specification sheet, for example for the definition of strength and dimensions, the precisely calculated tools and molds for the final wheels are produced.
From the finished molds, the first rim blanks are put through a series of physical tests. Although these approvals are not required in all markets, they serve HEICO SPORTIV's own high quality standards:
Bending circulation test
In this test, the resistance of the aluminum structure is tested. During the test, the rim is firmly locked in place and subjected to constantly changing forces.
Material test
The material quality of the aluminum composition is tested for purity and consistency.
Endurance roll-off test
The durability of the complete wheel (= with tire) is recorded during cornering and on the straightaway running. Thereby the strength of the rim flange, the wheel star, and the stress on bolt holes and central bore are tested. It is ensured that no cracks or damage occur and that no air escapes.
Rim flange test
The main criterion here is the stress on the rim flange during a simulated risk drive, in which various driving conditions are simulated. Critical areas are also the spokes and the area around the valve stem, which may not break, for example, on contact with a curb.
Impact test
In order to simulate an impact at 40 km/h on a curb, various weights are shot onto the rim. The drop height of the weights, which weigh up to 1,000 kg depending on the vehicle class, is 230 mm. At the same time, it is determined if and how much air escapes.
Torsion test (interaction/twisting)
This long-term test checks the tangential forces acting on the wheel during acceleration and braking. The main focus is on ensuring that no hairline cracks occur. The rim is mounted on a test bench without tires to simulate loads and determine the degree of torsion.
Corrosion test
The wheel is sprayed with a concentrated salt solution for 384 hours. Prior to this, grid lines are applied to the rim flange, wheel star and rim bed in order to be able to precisely trace corrosion in each area of the rim during the test. Some parts on the rim were deliberately damaged for this purpose (such as by a stone chip) in order to subsequently analyze whether the defective aluminum wheel is resistant and does not corrode.
Mounting test
Finally, all wheel-tire combinations are mounted on each vehicle type and checked with regard to current wheel guidelines, body-to-tire clearance and wheel cover. Only now can an application certificate be applied for.
The Kraftfahrt-Bundesamt (KBA) is authorized to carry out random field tests. This ensures that the wheels produced for the TÜV tests are of the same quality as those produced for the road. If there are discrepancies, the KBA can recall all wheels at the manufacturer's expense. This is comparable to a recall action by an automobile manufacturer.
Image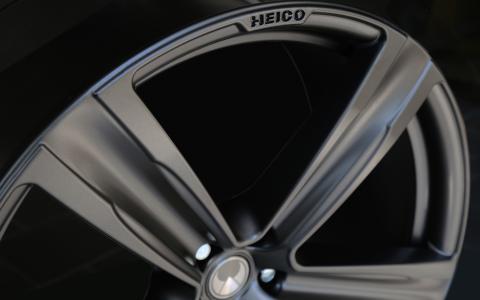 Image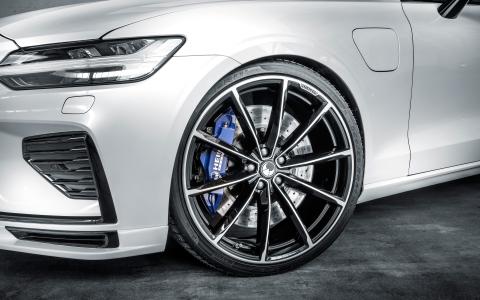 Image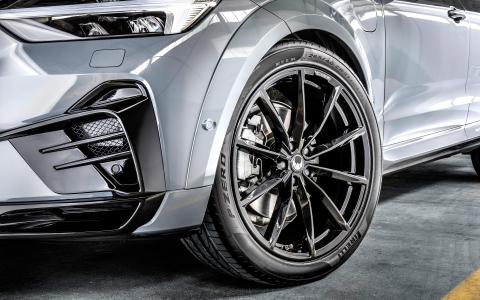 Image
Exterieur
Haute Couture for Volvo.
 
When form and function are in harmony, we are talking about an appealing design. HEICO SPORTIV has built up this know-how over decades and breathing the Volvo DNA.
It is of great importance that the vehicle is viewed as a whole subject. No component from HEICO SPORTIV looks imposed or even retrofitted. The art is to design body parts such as the front spoiler, rear diffuser or an entire body kit in such a way that they integrate smoothly into the design concept and emphasize styling elements. Often, success lies in details that makes a product perfect. In the eye of the beholder, this creates the image of a harmonious and homogeneous Volvo from every perspective.
HEICO SPORTIV is doing the entire product development process in-house - hand in hand with suppliers. The spectrum ranges from initial drawings to renderings, clay modeling, CAD engineering, model molds and prototype construction.
First there is a rough design idea. And a white sheet of paper. Hand sketches with different designs and perspectives are made to demonstrate emotionality and charisma of the vehicle.
After the design finding process is completed, the draft is refined and finally photo-realistically animated. A clay model (depending on application) is created on the real vehicle and modeled in detail until it meets the requirements and ideas of the precisely defined HEICO SPORTIV design language. At the next step the prototype will digitized via an elaborate scanning process and all data will perfected down to the last detail by using CAD (Computer Aided Design).
HEICO SPORTIV is doing the entire development process digital for several years now. This type of product development corresponds 1:1 to the procedure used by automobile manufacturers and guarantees maximum fitting accuracy and surface quality.
But it's not just the design that matters. To ensure easy assembly later on, we have to ensure that original fixing point such as clips and screws are adopted for the new HEICO SPORTIV tuning part.
Now the test mold can be milled and the prototype part laminated. The COP test part - mandatory for the conformity checks of Kraftfahrt-Bundesamt (KBA)  - is mounted on the test vehicle and checked for fit and function of the peripherals, such as air ducts, towing devices and sensors. Only now is the final production mold released for manufacture. After approx. 4 - 6 weeks, once the mold has been completed, the first final series part can be produced.
At the same time, bilingual assembly instructions, video instructions and the complete documentation for the application for ABE or parts approval are prepared.
Where relevant, crash tests are carried out in accordance with the latest pedestrian protection guidelines. This is mandatory for the homologation of add-on parts in the front area. Here, a legform impactor is shot against the add-on part in a ballistic curve to measure acceleration, bending and shear.
The material of the add-on parts is also decisive for the accuracy of fit and surface quality. HEICO SPORTIV exterior parts are made of PUR-R using the complex RIM process. PUR (polyurethane) is a hard, homogeneous material that can be manufactured in thin wall thicknesses. It is characterized by its extreme load-bearing capacity due to special impact strength and high tear resistance. So-called PUR-RIM parts are used wherever safety, durability, impact and shock resistance are required. PUR (polyurethane) stands for the plastics or synthetic resins from which the part is made, while R (reinforced) and RIM (reaction injection molding) describe the manufacturing process.
With this high-quality material and the complex manufacturing process, we can ensure material and fit qualities analogous to series production.
Interior
Perfection in every detail.
 
Volvo has always been known for an independent design. HEICO SPORTIV complements the Scandinavian look with the use of high-quality leather, aluminum and stainless steel, giving the interior a sportier and more exclusive accent. First and foremost, the highest material appeal, quality of workmanship and perfect haptics are our claim.
In addition to the positive "see-feel-smell" effect, the functionality of the components must be at least at the stock production level. The sports steering wheel must feel at least as good in the hands as its standard counterpart, a complete leather interior must be just as hard-wearing, and a set of fine velours floor mats must have just as perfect a fit as the original plastic mats.
A development effort that may not be visible at first glance, but can be felt in the long term in daily use.
HEICO SPORTIV's portfolio includes exclusive and fine interior details. For example, ventilation nozzles knobs, pedal sets and foot rest made of aluminum,  ergonomically shaped sports steering wheels made of a leather/Alcantara combination, illuminated door trims made of stainless steel and the exclusive signature set from an innovative 3D printer. For pronounced individualists, the range extends to complete leather/Alcantara trims with color-coordinated carpets and seat belts, contrasting stitching and painted plastic surfaces.
Almost every customer wish can be fulfilled at HEICO SPORTIV!